Locals and tourists alike love hanging out in all of the dog-friendly spots in downtown Charleston. There are so many fabulous dog-friendly places, from restaurants to historical landmarks, beautiful parks, and doggy boutiques! Our list of the top 10 dog-friendly spots in downtown Charleston will give you lots of things to add to you and your dog's to-do list!
This dog-friendly southern style eatery has a huge porch and a wine cellar! You can bring your dog and enjoy a fantastic meal or delicious cocktail!
153 E Bay St. Charleston SC 29401 (843) 577-5755
This bakery has it all from fruit tarts to cakes and pies! They also carry in-house dog treats, so make sure you bring your dog!
59 ½ Cannon St. Charleston SC 29403 (843) 579-2891
This 1950's era gas station was the inspiration for Fuel, a delicious Caribbean restaurant that allows you to bring your dog! They have a beautiful back patio with lots of shade. It's perfect for dinner or happy hour!
211 Rutledge Ave, Charleston SC 29403 (843) 737-5959
This breakfast and lunch-only restaurant allows you to bring your dog and serves a great menu of American made food with ingredients from local Charleston purveyors!
703 Rutledge Ave, Charleston SC 29403 (843) 410-1070
If you're a craft beer lover or you like to try new beers out, then this dog-friendly spot is for you! It is the best place for you to try out some great beer as they have 24 beers on tap. The bones of the building also date back to 1864 and played a role in the Civil War.
549 East Bay, Charleston SC 29401 (843) 266-2437
This pub has a great historical appeal to honor the tradition of the infamous "Blind Tiger" term, describing the illicit drinking and gambling establishments opening their doors during the prohibition era. The food is tasty and it also has a lovely courtyard, where your dog can sit and eat with you!
36-38 Broad Street, Charleston SC, 29403 (843) 872-6700
In the heart of downtown Charleston this hip coffee and craft beer place has a beautiful patio and live music! It's a great tucked away spot with a wonderful relaxing vibe you and your dog will love!
4 Vanderhorst Street Charleston SC, 29403 (843) 853-7186
Check out the beautiful scenery at this fun dog park with live oaks and a huge grassy field. You will enjoy throwing the ball for your dog and socializing in front of the harbor view!
70 East bay street, Charleston SC, 29401
This beautiful historical garden is also famously known as The Battery! The Battery holds a lot of historical memories that tells you it's story and is open for you and your dog. It's also right on the water!
East Battery Street at Murray Blvd, Charleston SC, 29401
This fun Bakery is catered to your dog, with Southern gourmet treats and some of the cutest leashes and collars! If you're looking for a special treat for your dog, this is the perfect spot!
341 king street, Charleston SC, 29401 (843) 952-7400
Even More Dog-Friendly Spots In Charleston
Use this guide and explore our favorite dog-friendly spots in downtown Charleston to entertain you and your dog whenever you're in the mood to get out of the house. Check out our favorite places or explore and find many more! If you're closer to James Island, make sure you check out our 2018 Top Dog-Friendly Restaurants on James Island and Folly Beach for even more fun!
---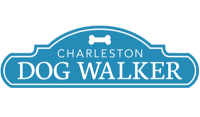 Charleston Dog Walker provides professional dog walking and pet sitting in your home that is customized to your pet's needs. We're so happy you found us (and we know your pet is, too!) and we would truly be honored to be your pet care provider.
Give us a call at 843-580-2212 or contact us to get more information about how we can help your pet!