Does your dog treat every meal like it's the first time they've eaten all week? If your dog eats too fast, we've got a few tips you can try to make your dog eat slower.
Why Does My Dog Eat So Fast
A lot of dogs develop their fast eating habits as puppies. They are often competing with their littermates for food, and they learn that whoever snoozes loses! Dogs develop the habit of eating very quickly and then it becomes their typical behavior when they eat.
Some dog breeds are known to eat very quickly, such as labradors, golden retrievers, beagles, basset hounds, and dachshunds. Dogs all have different personalities and eating styles, and eating fast is a common issue many pet parents see.
Problems If A Dog Eats Too Fast
When your dog eats fast it can become a serious issue, so it's important to train them to slow down. Otherwise, they could possibly choke from eating too quickly or vomit the food back up. Bloat can also occur from gulping down an excessive amount of air. Bloat causes the stomach to expand and possibly twist, which can become life-threatening very quickly. The main symptom of bloat is vomiting mostly foam or a swollen stomach. If you think your dog may have bloat, you need to take them to the vet immediately.
Bowls To Help Slow Down Eating
The great thing is that getting a dog to eat slower is a problem with a pretty simple solution! The easiest way to slow them down is to change up their bowl.
Slow Feeder Bowl: There are tons of slow feeder bowls you can buy and they work wonders at making your dog eat slower. Slow feeder bowls separate the food into smaller areas so your dog has to work at getting their food instead of just inhaling it. We love Outward Hound's clever and cute bowls. Their Fun Feeder bowl did a great job training my puppy to slow down. Now she has graduated to using a regular bowl again!
Cookie Sheet: A cost-effective method to help your dog eat slower is to use a cookie sheet. Just spread the kibble out in a thin layer and they will be forced to slow down.
Muffin Tin: You probably already have a muffin tin, which can also double as a slow-feeder bowl. Divide out the kibble in all of the different holes and watch them enjoy finding their food! They have to work harder to get the kibble out of each individual hole, which will take a bit more time.
Puzzle Feeder: There are a variety of puzzle feeders and puzzle balls that work great at helping your dog eat slower. They can't get to the food all at once and need to move things around to find the kibble or get it to dispense from the toy. This method is very stimulating and interactive for them, which is always fun!

Alternative Dinner Activities
If you want to take a new, fun approach to dinner, you may also want to give these options a try!
Make Dinner Be Training Time: If your dog loves their food, they likely will think of it in the same way they think of a treat. This is great because it means you can use kibble as a reward for training. If you're working on any new tricks or skills, measure out the amount your dog should be eating for a meal and then use that kibble as their reward. Make sure you still are giving them all of the food they should be getting at a meal time. Dinner training sessions are a great way to bond, and you'll have a happy, well-behaved dog!
Hide and Seek: Some dogs love to play hide and seek with food. Have your dog sit and stay while you let them see you hide a few pieces of kibble. Then say "Seek" to release them from their stay, and they can go get the food. Once your dog understands the concept, you can make it harder by having them sit and stay somewhere they can't see you hide the kibble. Then the game actually makes them seek out the food, which is great for mental stimulation.
It's very simple to correct the issue of a dog eating too quickly, and it's important so you prevent things like choking, vomiting, and bloat. You have so many choices, from using the simple home remedy of a muffin tin, to buying a spiffy slow-feeder bowl, or you can even turn feeding into an interactive and fun session. Any of these approaches will quickly remedy your pup's scarfing issues and will make dinner time a calmer experience for everyone!
---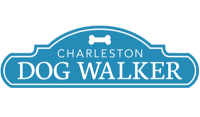 Charleston Dog Walker provides professional dog walking and pet sitting in your home that is customized to your pet's needs. We're so happy you found us (and we know your pet is, too!) and we would truly be honored to be your pet care provider. Give us a call at 843-580-2212 or contact us to get more information about how we can help your pet!
Save
Save
Save
Save
Save