Using a dog harness can be a great way to help your dog walk better on a leash. We should know: we're dog walkers! We walk hundreds of dogs and all of them have their own personalities and walking styles. But one thing's for sure – a dog harness definitely helps.
If you've got a wild child dog who needs a little help on the leash, a dog harness can be a great resource. A dog harness can also help if your dog pulls and you want something that works to correct their behavior. Here are our two favorite types of harnesses that we find to be the most effective at helping dogs walk well.
The Easy Walk Harness
The Easy Walk harness is definitely the most common dog harness we see with our clients, and for good reason! This great harness helps redirect your dog when they pull. It utilizes a "martingale" system for your leash to attach to the harness. This gives you more control when your dog pulls but it doesn't choke your dog.
How do I put the Easy Walk harness on?
Putting on the Easy Walk harness is pretty simple. It goes around your dog's chest and around their torso, right behind their front legs. Then the leash attaches at their chest. Once you fit it properly for your dog, you only need to unbuckle one buckle to get it on and off. Then it will keep your dog secure and will help alleviate pulling during walks.
How does the Easy Walk harness work?
The Easy Walk Harness tightens slightly across your dog's chest and shoulder blades when he pulls. This will lightly steer your dog to the side and redirect his attention towards you. The Easy Walk harness is the one we recommend most when a client asks about harness options. We've seen it work wonders with both calmer and exuberant dogs!
Our review of the Easy Walk harness
So many of our clients use the Easy Walk harness and we are big fans of it, too. It's easy to put on, doesn't choke your dog, keeps them secure, and generally improves walking. If you've got a really strong puller, though, this may not altogether fix the problem. It should help by redirecting them, but you'll still probably deal with just a lesser degree of pulling. For the dogs who just need moderate help, this is an awesome harness.
The Gentle Leader
The Gentle Leader harness isn't quite as common as the Easy Walk harness, but it is also super effective. It may look a little weird, but it is really great at reducing jumping, lunging, pulling, and other behavior problems.
How do I put the Gentle Leader harness on?
This one may take a bit more practice, but once you get it, it's easy. The Gentle Leader fits over your dog's nose and around their head. Not all dogs enjoy the way it fits because they aren't used to something around their nose. But it is not at all restrictive for them and it's not a muzzle. It sits high on your dog's neck without putting pressure on their throat.
How does the Gentle Leader harness work?
The design of the Gentle Leader harness fits it around your dog's nose for a reason. If they start to pull, the harness redirects their head so they focus on you. You aren't using force at all and it truly is a "gentle" leader. It's a great way to help them stay focused on walking well at your side.
Our review of the Gentle Leader
We've found that the Gentle Leader is really awesome to use for the really rowdy dogs. It doesn't use force and it doesn't choke them at all. It just allows you to redirect their focus really easily. They don't enjoy having their face redirected, though, so they learn pretty quickly with just gentle movements that they can't act crazy. It's such a great solution and works like a charm. The only downside is the way it looks. It gives the impression of a muzzle, so it kind of makes your adorable dog look like Cujo to the average person walking past. Otherwise, this is a great harness and we definitely recommend trying it!
Find a harness that works for your dog
Every dog acts differently on walks. It's important to figure out what kind of harness works well for your dog based on their needs and behavior. There are a lot of harnesses out there but the Easy Walk and the Gentle Leader are our favorites. We've found they are the most effective for the largest variety of dogs. We hope one of these works well for your dog, too, because dog walks are way more fun when you have a dog who walks nicely beside you!
---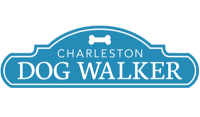 Charleston Dog Walker provides professional dog walking and pet sitting in your home that is customized to your pet's needs. We're so happy you found us and we know your pet is, too! We would truly be honored to be your pet care provider. Give us a call at 843-580-2212 or contact us to get more information about how we can help your pet!